Game 20, A's 0, Mariners 4 (9-11)
By Jason Wojciechowski on April 23, 2011 at 7:00 PM
After three catchup posts today, I'm finally up to yesterday's ballgame and am thus writing about things that might be fresh in your mind, i.e. things you might actually still care to read about.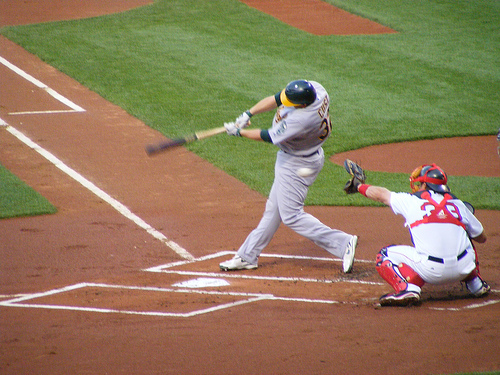 Photo credit: Dinur
Well, you'd care to read about them if they weren't a writeup of the A's second consecutive shutout at the hands of the Mariners, that is. Where Thursday's game against Felix Hernandez resulted in the sort of shutout at which you just shrug, a matchup with Michael Pineda, heralded as he may be, doesn't give you quite the same Zen feelings. This isn't Stephen Strasburg, after all. Then again, the A's aren't the Red Sox, either, so it doesn't always take a Strasburgian talent to keep them in check.
(I tried to find a picture of Michael Pineda, but Flickr and Google's Creative Commons searches failed me, so you get a photo of Jack Cust doing Jack Cust things instead.)
Box & Notes
| Player | PA | TOB | wRAA | WPA |
| --- | --- | --- | --- | --- |
| Crisp (CF) | 4 | 0 | -1.024 | -.18 |
| Barton (1B) | 4 | 0 | -1.024 | -.07 |
| DeJesus (RF) | 4 | 1 | -.312 | -.01 |
| Willingham (LF) | 4 | 1 | -.312 | -.03 |
| Matsui (DH) | 4 | 2 | .248 | .04 |
| Suzuki (C) | 4 | 3 | .960 | .06 |
| Ellis (2B) | 4 | 1 | -.312 | -.09 |
| Kouzmanoff (3B) | 3 | 1 | -.056 | .04 |
| --Sweeney (PH) | 1 | 1 | .304 | .04 |
| Pennington (SS) | 3 | 1 | -.208 | -.05 |
| --Jackson (PH) | 1 | 0 | -.256 | -.07 |
Kurt Suzuki almost gave me a heart attack. In the second inning, with Hideki Matsui on first and a full count, the CSN director went to the behind-the-plate view of the action. Suzuki chose that pitch to foul straight back, knocking the ball directly into my living room and causing me to almost jump out of my skin. I've done the "recoil in horror" thing before at minor league games, sitting right behind the action when foul balls come into the screen, but I don't think that's ever happened to me while sitting on my couch before.

Anyway, two line drive singles, a walk, and a hard hit out to left field given Suzuki the Offensive Player of the Game trophy.1

Coco Crisp was a matter of inches from a game-tying RBI groundout in the fifth inning. With Kevin Kouzmanoff on third, he jammed a ball to Adam Kennedy at first. Kouzmanoff was going on contact, and Kennedy's throw was a tad bit high, making Olivo hop to grab it.2 The tag, consequently, was high up on Kouzmanoff, but the home plate umpire3 was right on top of the play and ruled the third baseman out. Bob Geren popped out of the dugout immediately, but a frame-by-frame replay showed that the call was probably right -- Kouzmanoff's lead foot appears to have initially missed the plate, drifting off to the left (i.e. toward the inside of the diamond) instead of going directly onto the rubber. Ray Fosse speculated that perhaps a slide of the type that Daric Barton executed perfectly a few games ago, going to the outside of the play and swiping the plate with the left hand, might have given better results. Unlike on a ball from the outfield, though, it can be hard to see where the throw from the first baseman is going to lead the catcher, so Kouzmanoff can be forgiven for taking the most direct approach to the plate as a matter of sliding strategy. (Similarly, however, he can be faulted for not actually executing the slide and getting his foot onto the plate.)

Crisp was also the victim of the prettiest double play you'll ever see in the seventh inning, with Jack Wilson sliding up the middle to catch the ground ball, flipping to Brendan Ryan at the bag, who snatches the ball out of the air, pirouettes, and throws a strike to first to get the speedy (but batting righty) Crisp. You see players making spin moves from time to time, but these plays often result in off-balance and wild throws. Ryan was under as much control as anyone I've ever seen ripping off a 360. Like I said in the Game 19 recap, it's a joy to watch Ryan play the position.

Miguel Olivo (I know I usually just discuss A's players here, but there's no other place for this) had the reaction of the night in the fourth inning when he scalded a Tyson Ross 3-0 fastball to center only to have the ball hang up and not even reach the warning track. Olivo, who played in Colorado last year and is obviously still adjusting to the realities of Safeco, couldn't believe it. When the ball settled into Coco Crisp's glove, he threw up his hands, took off his helmet, and generally was very agitated. I can't really describe it, and MLB.com's video package for this game does not appear to have deemed the moment important enough. If you have MLB.tv, though, you can check it out: jump to the bottom of the fourth.
| Pitcher | Outs/TBF | Str/Pit | K | UBB | HR |
| --- | --- | --- | --- | --- | --- |
| Ross | 13/20 | 31/76 | 0 | 4 | 0 |
| Blevins | 0/3 | 4/13 | 0 | 2 | 0 |
| Ziegler | 4/5 | 14/21 | 2 | 0 | 0 |
| Purcey | 4/5 | 12/22 | 1 | 1 | 0 |
| Breslow | 3/3 | 10/15 | 1 | 0 | 0 |
Can I say some nice things about Tyson Ross? He seems like a nice young man who I'd enjoy having a beer with (assuming he shaves that silly goatee he's got going). What he doesn't seem like is a major-league starter for a team with playoff ambitions. Thirty-one strikes on seventy-six pitches is unacceptable. No strikeouts for a guy with his stuff is unacceptable. Walking 20% of the batters you face ... well, now I'm repeating myself, because if you're throwing 45/76 balls, you're walking guys.

Ross's stuff moves, but it's not clear that it's moving so much that it ends up in places he doesn't expect it to go. His pitches start out in places he doesn't intend, and then on top of that they move all over creation. If he wants to be an effective pitcher, he's simply going to have to find a way to understand where his pitches go. It's not harder than that.

Unfortunately, it's not easier than that, either.

I have an image in my head of Jerry Blevins having a lot of strike-zone troubles lately, but I've apparently made that up, because he pitched fine in Game 18 against the Red Sox and hadn't pitched since Game 13 before that. (Granted, he did throw just 8/20 strikes in Game 13.)

In any case, when you come into a 1-0 game with two runners on, you cannot promptly issue two walks on nine pitches. You should also not follow that up by hanging a curve to the next batter. Tyson Ross took the loss and got charged with three earned runs, but Jerry Blevins pitched the worst of any of the five A's hurlers, putting a close game out of reach. (Four runs is out of reach for the A's. Don't deny this.)

Brad Ziegler very likely should not have faced Ichiro in the sixth inning. He's a ROOGY, so the four-batter sequence of Olivo-Langerhans-Ryan-Wilson was perfect for him: three righties and a low-wattage lefty. Lo and behold, he got those guys out. When faced with a left-hander who can actually swing the lumber, though, and in particular one who wants to hit ground balls, Ziegler's strengths are neutralized. Since David Purcey was obviously ready as it was (he was called in just as soon as Ichiro's single landed in left field), that call should have been made one batter earlier than it was.
---
Standings: (4) Ellis; (3) Barton, Crisp, Suzuki, Willingham; (1) DeJesus, Jackson, Matsui, Pennington ↩

It is possible that this was not actually a hop by Olivo but rather represented the full extent of his leaping ability. It's hard to tell. ↩

Cory Blaser, who, as I tweeted earlier today, is two months younger than me. Ouch. ↩