Game 21, A's 9, Mariners 1 (10-11)
By Jason Wojciechowski on April 24, 2011 at 12:00 PM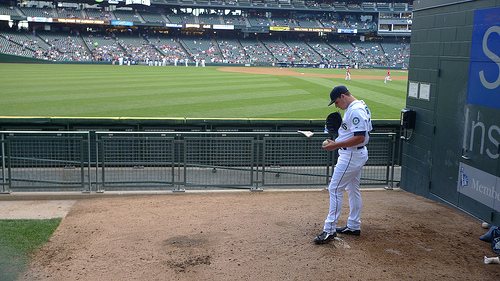 Photo credit: camknows
Runs explosion! Trevor Cahill wasn't sharp, but (a) the Mariners looked like the A's, unable to convert twelve baserunners into more than one run; and (b) the A's offense made it not matter by busting out for nine scores. I don't know if you want to say that Jason Vargas (pictured) struggled, or if you just want to say that he's not as good, with his career 4.86 xFIP (including this year) / 4.84 SIERA (not including this year), as Felix Hernandez or Michael Pineda.
It was Josh Lueke, though, who gave up the big blow, Kevin Kouzmanoff's three-run homer in the sixth. I know a lot of people hate Josh Lueke because he raped an unconscious woman in Bakersfield, so this was pretty sweet for them. (His 17.05 ERA in general is pretty sweet for them in general.)
There's not a lot of narrative to a 9-1 game, so:
Box & Notes
| Player | PA | TOB | wRAA | WPA |
| --- | --- | --- | --- | --- |
| Crisp (CF) | 5 | 3 | 1.464 | .12 |
| Barton (1B) | 5 | 2 | -.160 | -.01 |
| Jackson (RF) | 5 | 2 | .144 | .03 |
| Willingham (LF) | 5 | 1 | -.568 | -.11 |
| Matsui (DH) | 5 | 1 | -.720 | -.03 |
| Suzuki (C) | 5 | 2 | .192 | .05 |
| Ellis (2B) | 5 | 1 | -.368 | .03 |
| Kouzmanoff (3B) | 4 | 2 | 1.344 | .15 |
| Pennington (SS) | 4 | 3 | 2.104 | .18 |
Kevin Kouzmanoff finally had a good night, hitting three balls hard (getting a single and a homer for his efforts) and whiffing once, but Cliff Pennington outshined him, hitting a line-drive homer of his own, knocking a low line single against Josh Lueke, stealing second with a nice slide to the outside, and being gifted a four-pitch walk in the eighth. Even if you reduce credit for the walk (they weren't exactly borderline pitches), you're down to a single and a homer for each guy, but Pennington added a steal, so the shortstop is going to take home the Offensive Player of the Game award for the night.1

Coco Crisp also had a nice game, lining the second pitch of the game off of Jason Vargas's leg and knocking three balls into right-center, getting two doubles and a single. Just one of the pitches that Crisp hit looked fat to me -- the rest were non-horrible pitches that Crisp did the right thing with.

Crisp did participate in an odd play in the third. He was on second with Daric Barton behind him and Conor Jackson at the plate when Jackson hit a soft liner past the second baseman. With two outs, Crisp was running on contact and, Ichiro or not, looked to score easily because the ball wasn't hit hard enough to give the right-fielder a play at the plate. Coming around third, though, he saw Mike Gallego put up a stop sign and slammed on the brakes, retreating to third. Unfortunately, it quickly became clear from the interaction between Gallego and Crisp that the stop sign had been meant for Barton, not Crisp, as Gallego did not want the first baseman to be thrown out trying to take third on Ichiro.

I'm a little surprised this doesn't happen more often, but it's the first time I've ever seen it. Luckily, it didn't cost the A's anything in the game, though Conor Jackson's fantasy owners (do they exist?) probably wish he'd have received the RBI he earned on the play.

Kurt Suzuki stole second without a throw in the fourth. How can any left-hander be that bad at holding runners?

Mark Ellis sacrificed in the sixth inning, and I have no idea why. The scene: 4-1 A's lead, Josh Lueke newly in the ballgame, runners on first and second, nobody out. What possible reason could there be to bunt? Trevor Cahill wasn't pitching that well, but the Mariners had their B lineup going (still no Smoak, and a 6-7-8 of Luis Rodriguez, Chris Gimenez, and Carlos Peguero) and they hadn't shown any ability to take advantage of Cahill's mediocre command. Plus, Josh Lueke, while coming to Seattle with an excellent minor league track record (preposterous K/9 rates, walk rates in the low twos), he's walked everybody in the majors so far, so why not see if he'll continue doing that?

Conor Jackson and Mark Ellis combined for a baserunner kill at the plate in the first as Jackson dug a ball out of the corner, threw a one-hop throw to Ellis, who threw a short-hop ball to Suzuki at the plate in time to get Chone Figgins on the arms as he tried to go by. The A's got a little lucky on the play, because Ellis's throw, which wasn't great, carried Suzuki right into the path of Figgins's slide. On the other hand, Suzuki made an excellent catch at the plate, showing, once again, his glove skills.

Jackson also made a falling (I won't say diving -- it wasn't graceful enough to be a dive) catch in foul territory after a long run in the second inning, again victimizing Chone Figgins.

Also, Kurt Suzuki showed off his arm two innings later, throwing out Michael Saunders trying to steal third. Saunders didn't have an amazing jump, but Suzuki made a throw that should go on an instructional video, putting the ball into Kouzmanoff's glove a few inches from the ground, a few inches from the bag. Saunders slid right into the tag, and Kouzmanoff barely had to do anything. Very pretty play.

Mark Ellis turned a Mark Ellis Double Play in the seventh. Jack Wilson hit a grounder up the middle, a few feet from the bag, that Ellis fielded. He was probably too close to make a throw to Pennington, however, so he took two side-steps to his right, touched the bag, then continued one more step in that direction, off the bag to avoid the slide by Carlos Peguero, throwing off his back foot while on the move. Somehow, through all this, he got enough on the throw to get Wilson at first. This year has to be the year: Gold Glove!
| Pitcher | Outs/TBF | Str/Pit | K | UBB | HR |
| --- | --- | --- | --- | --- | --- |
| Cahill | 18/24 | 56/100 | 2 | 1 | 0 |
| Ziegler | 3/3 | 9/15 | 1 | 0 | 0 |
| Breslow | 3/4 | 12/17 | 1 | 0 | 0 |
| Balfour | 3/5 | 9/15 | 2 | 1 | 0 |
This game was not one of those Trevor Cahill starts that fuels the "how good is he, really?" debate -- he didn't induce a bunch of weakly hit balls and thereby avoid giving up hits while not striking anyone out. The A's didn't do a lot of defensive robbery (outside of the Jackson catch discussed above), but the Mariners did have two baserunners wiped out in Cahill's six innings. Generally, the trend was fly balls hit at medium strength but within reach of the outfielders. That's not a general recipe for success without more strikeouts because balls will find gaps, even against Coco Crisp, but it worked out well enough this time around.

Brad Ziegler benefited from the Mark Ellis double play detailed above. He apparently struck out Chris Gimenez, but I missed it because MLB.tv declined to come back from "commercial" in time to see it, or the first two pitches of the Carlos Peguero at-bat.

I'm pretty sure Grant Balfour screamed "FUCK!" loud enough for the entire park (and the TV mics) to hear after he walked Gimenez in the ninth. Glen Kuiper claimed that someone in the stands yelled really loud and wondered who it was, but I think he was playing it off for Balfour.

Using Ziegler, Breslow, and Balfour in an eight-run game when Bobby Cramer is in the pen and hasn't pitched since Game 13 points up the absurdity of the modern bullpen. Bob Geren wants to have seven relievers, so he has seven relievers. This is well and good, except four of his starters are pretty damn good and tend to work deep in games. There's not enough work to go around, then. Ziegler and Breslow actually pitched in Game 20, but Balfour hadn't thrown since Game 12, so Geren obviously wanted him to get some work, and he, for good reason, prioritizes keeping Balfour sharp over giving the same consideration to Bobby Cramer.

Anyway, if you figure you're only going to have 15-20 relief innings to go around per week, maybe you don't need seven pitchers to cover that. In particular, the A's are carrying two guys that Geren has been using as pinch-hitters (Conor Jackson for weak hitters, Ryan Sweeney to get platoon advantages against righties), but has only one infielder to replace Mark Ellis, Cliff Pennington, or Kevin Kouzmanoff after he hits for them. If you swap out, say, Jerry Blevins (who may or may not have an option year remaining) for Eric Sogard, maybe you gain something on offense in a close game or two. I'm pretty confident that David Purcey and Craig Breslow can cover Blevins's innings.
---
Standings: (4) Ellis; (3) Barton, Crisp, Suzuki, Willingham; (2) Pennington; (1) DeJesus, Jackson, Matsui. ↩