Game 22, A's 5, Mariners 2 (11-11)
By Jason Wojciechowski on April 26, 2011 at 10:30 PM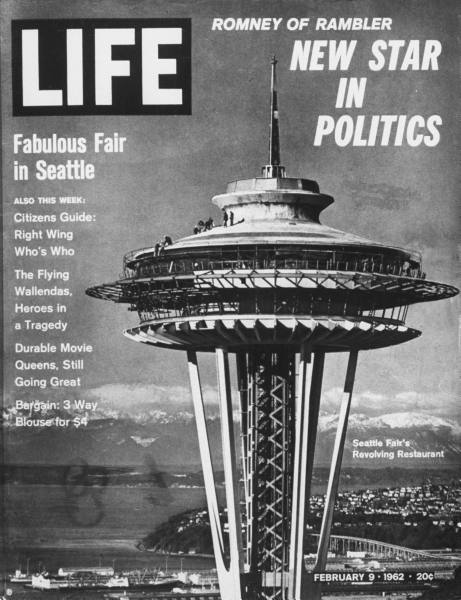 LIFE magazine, 02-09-1962; photo by Ralph Crane
A series split ends up being a pretty nice thing after you lose the first two games without scoring any runs at all. Also, if the A's go .500 on the road this year, I like their chances in the division, assuming the Rangers return to earth and don't play .600 ball. That said, Oakland isn't likely to win 50% of its road games against Boston, New York, Tampa, Detroit, Chicago, Texas, or whoever else you think is good. It's important to beat up on the weak teams, and even accounting for Felix Hernandez's start, a three-of-four series would've been excellent.
Alas, a split is what they got, and a split is what we'll have to live with as fans. I'm hoping for better going to Anaheim, but being realistic, Oakland doesn't have its best pitchers going and the Angels do: specifically, Jered Weaver in game one and ex-Athletic Dan Haren in game three. Tyler Chatworth is no small potatoes as a top-100 Baseball America prospect, but Oakland's going to have to beat him up to have good odds of not getting swept.
Anyway, the story of this game was, as it always is when Brett Anderson pitches, Brett Anderson. Six whiffs in seven innings, just one walk, and two runs (only one "earned") while the A's pushed out just enough offense to support him before tacking on two insurance runs in the ninth to seal things. Both of the Mariners runs were ticky-tacky, too, more attributable to the defense than the offense (more about which in the notes), which has been an unfortunate theme of the season thus far. Players like Kouzmanoff and Barton have established defensive abilities, and we have to assume that they'll quit making silly plays and get back to being the vacuum cleaners we've all come to love.
Box & Notes
| Player | PA | TOB | wRAA | WPA |
| --- | --- | --- | --- | --- |
| Crisp (CF) | 5 | 3 | 1.632 | .12 |
| Barton (1B) | 5 | 1 | -.568 | -.12 |
| DeJesus (RF) | 3 | 0 | -.768 | -.14 |
| --Jackson (PH-RF) | 2 | 1 | .200 | .09 |
| Willingham (LF) | 5 | 4 | 1.568 | .34 |
| Matsui (DH) | 5 | 3 | .552 | .13 |
| Ellis (2B) | 5 | 0 | -1.280 | -.13 |
| Powell (C) | 5 | 0 | -1.280 | -.09 |
| Kouzmanoff (3B) | 4 | 2 | .448 | .02 |
| Pennington (SS) | 4 | 1 | -.312 | -.01 |
A couple of caveats about Josh Willingham and Hideki Matsui: Willingham was hit by pitches twice (which earned Brendan Ryan a two-out beaning in the thigh from Brett Anderson, though shockingly the benches were not warned, etc. It probably helped that Ryan did not more than give Anderson a glance as he went to first base), and Matsui was intentionally walked in the ninth after a wild pitch put runners on second and third.

In terms of plate appearances the batters could control, then, the Offensive Player of the Game question comes down to Coco Crisp's two singles and triple in five trips versus Willingham's single and double in three appearances. Given that Crisp already has a lead in wRAA on Willingham when you count CompliantHam's HBPs, I think Crisp has to take home the award for his three line drives, one of which he sprinted out for a triple, as well as a steal in the ninth.1

I don't give extra credit for defense in the Offensive Player of the Game award, but Coco came near to earning it in this one, making an awesome catch on the run in deep right-center in the sixth inning on a Miguel Olivo drive that carried Crisp at full speed into the wall, knocking his hat off. He appeared shaken up for a second, but he stayed in the game and added to the offense later, so I guess he's ok.

I hate 3-0 counts that result in weak contact. Shit happens, I know, but at-bats like David DeJesus's in the fifth, which resulted in just a popup to third, annoy me to no end.

Yes, there was a lefty on the mound, and yes it was a 1-1 contest, but the fact remains that Bob Geren pinch-hit for his number-three hitter in the seventh inning and it was probably the right call. Let's go, offense!

I don't think Doug Fister was trying to hit Josh Willingham, but the second HBP in particular ran way in, hitting him in the first I in the name of the back of his shirt. I think Brett Anderson's retaliation message was "if you're going to pitch up and in against our best hitter, you'd damn well have a little better control than you're showing or else your guys are going to pay for it." This isn't my favorite part of baseball because I think it's a distraction from the game. Much as umpires get overzealous about issuing warnings in cases where it looks, from home, like HBPs or inside pitches are unintentional, I'd rather err in that direction than on the side of having more vigilante justice. It might be funny when someone gets headlocked or dropkicked, but it's not funny when someone gets hurt. There's a reason I don't watch hockey.

As much as I bitched about getting a 3-0 count and then wasting it, how conflicted must a pitcher feel about going 0-2 before throwing three balls and then giving up a seeing-eye single? That's what Doug Fister and Hideki Matsui came together to act out in the first inning.

Because long at-bats by A's hitters are basically my favorite thing ever, here's a shout-out to Matsui's 12-pitch walk in the sixth.

Landon Powell did not see a fastball until the sixth inning. I guess word has gotten around that he likes fastballs.

Kevin Kouzmanoff stole a bizarre base in the second on what was probably a botched hit-and-run. Doug Fister threw a fastball up in the zone that Pennington took until it was already in the catcher's glove. At that point, it seemed like he remembered that he was supposed to swing at anything to try to put it in play to protect the runner at first, Kouzmanoff. Miguel Olivo popped up to catch the ball and so should have had a perfect pitch to throw on, especially given Kouzmanoff's mediocre speed. Instead, he delayed, appearing to even look at first. It's not clear whether he just didn't see Kouzmanoff or whether Pennington's weird swing threw him off, but by the time he realized he should throw to second, Kouzmanoff had the equivalent of a good jump and was able to slide in safely.
| Pitcher | Outs/TBF | Str/Pit | K | UBB | HR |
| --- | --- | --- | --- | --- | --- |
| Anderson | 21/29 | 69/106 | 6 | 22 | 0 |
| Balfour | 2/4 | 9/17 | 0 | 1 | 0 |
| Fuentes | 4/4 | 13/18 | 3 | 0 | 0 |
Nice job, Brian Fuentes, getting out of Grant Balfour's jam in the eighth when it was still just a one-run game. I give him enough guff for not being able to throw a strike that I should acknowledge him when he gets the job done in dominating fashion, even if the guys he dominated were Luis Rodriguez, Josh Wilson, and Ryan Langerhans. (And Ichiro, actually, who he didn't strike out, but who did hit just a weak broken-bat grounder to the left of the mound to end the game.

Grant Balfour, by contrast, struggled with his command, throwing the ball all over the place while giving up a walk, a near-double foul ball, and a bouncing single before yielding to Fuentes. Not the best outing he'll ever have, but he gets a Hold, hooray!

Both of the runs Brett Anderson allowed had strong defensive components. First, in the opening frame, he gave up a perfect bunt single to Ichiro, who he promptly picked off. Unfortunately, Ichiro did a great job cutting way inside the line as he approached second, so Daric Barton's throw hit him right in the ass. He probably should have been called out for being way the fuck out the baseline (that's the official name of the rule), but nobody argued it, and anyway, arguments don't result in anything in baseball anyway, so whatever. From there, a sacrifice bunt and weak ground ball to Mark Ellis ended up scoring Ichiro.

Seattle's other run came after not one but two defensive miscues. First, on a chopper by Michael Saunders toward the second-base hole, Daric Barton ranged too far over to make the play, leaving no one at first base to get the out. If he let the ball go, Mark Ellis would have had an easy play. This would have been fine, except Kevin Kouzmanoff skipped a throw to Daric Barton on a Josh Wilson chopper, putting runners on second and third with nobody out. Anderson then got a grounder, shallow fly, and strikeout to escape with just one run allowed, keeping the 3-2 lead.