Game 24, A's 3, Angels 8 (11-13)
By Jason Wojciechowski on April 27, 2011 at 1:30 PM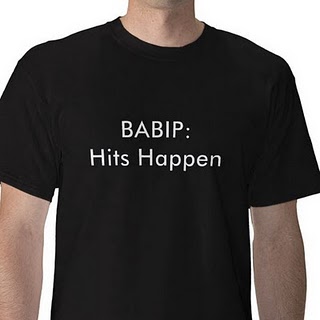 Would the A's have won this game had Brandon McCarthy not been BABIP Monster'd to death to the tune of fourteen hits in twenty-nine batters faced? Probably not. They still only scored three runs against rookie Tyler Chatwood and an assortment of decent Angels relievers, and not every one of Anaheim's eight runs came on a bink or a bloop.
The A's did end up with two of their three best hitters out of action by the third inning, though, as Josh Willingham did not play due to an existing back issue, and Coco Crisp came out of the game after his quad tightened up while beating out a potential double-play ball. Conor Jackson, Hideki Matsui, and Daric Barton have been fine this year, but an offense made up of just those three (don't even talk to me about David DeJesus) isn't going to get the A's anywhere.
Box & Notes
| Player | PA | TOB | wRAA | WPA |
| --- | --- | --- | --- | --- |
| Crisp (CF) | 2 | 1 | -.200 | -.05 |
| --Barton (PR-1B) | 2 | 0 | -.512 | -.03 |
| DeJesus (RF-CF) | 4 | 1 | -.464 | -.01 |
| Jackson (1B-LF) | 4 | 2 | 1.192 | .23 |
| Matsui (DH) | 4 | 1 | -.312 | -.04 |
| Suzuki (C) | 4 | 2 | .248 | .03 |
| Sweeney (LF-RF) | -.464 | -.05 | | |
| Ellis (2B) | 4 | 0 | -1.024 | -.06 |
| Kouzmanoff (3B) | 4 | 2 | .552 | .00 |
| Pennington (SS) | 4 | 1 | -.312 | .04 |
Conor Jackson's third-inning homer that gave the A's a 3-2 lead was a no-doubter, though it was not actually hit that deep. By True Distance at Hit Tracker (where that link takes you), it was the fifth-shortest homer of the night. Hell, Wilson Ramos hit two homers last night that went farther than Jackson's "bomb". There was something about the trajectory off the bat, though, that made it clear that since it was going down the left-field line, it wasn't going to land in Vernon Wells's glove.

For that homer plus a walk in the first inning, Jackson gets Offensive Player of the Game for the second time this year.1

For the second night in a row, Coco Crisp had second base stolen but came off the bag and was tagged out. This time, though, it looked like Erick Aybar may have nudged Crisp's foot, which was tenuously on second, off onto the dirt for the out. The umpire didn't agree with Bob Geren's protestations of such, and Crisp didn't even argue, so I'm not sure how much Aybar really did push vs. how much Crisp's foot was only temporarily on the bag and his momentum carried him off of it while Aybar's glove happened to be on his leg. Slow-mo replay didn't really clarify the situation.

Tyler Chatworth threw Kevin Kouzmanoff a first-pitch strike in the third inning, but then walked him anyway. I'm not sure this has ever happened before.
| Pitcher | Outs/TBF | Str/Pit | K | UBB | HR |
| --- | --- | --- | --- | --- | --- |
| McCarthy | 16/29 | 71/104 | 3 | 1 | 0 |
| Ziegler | 2/2 | 5/11 | 1 | 0 | 0 |
| Breslow | 3/3 | 7/11 | 1 | 0 | 0 |
| Blevins | 3/6 | 9/14 | 0 | 1 | 0 |
Fourteen hits is a lot. You know what we need? A comprehensive list of all fourteen.
Torii Hunter, 1, weird cue ball infield job on a curve

Howie Kendrick, 2, weak tapper toward 5-6 hole, Kouzmanoff misplays and tips past Pennington into left for a double; if he'd let it go, Pennington would have grabbed it and probably had the out at first

Peter Bourjos, 2, chopper high off the plate, everyone's safe by the time it comes down; reminiscent of an early 2000's hit by the Yankees in the playoffs

Alexi Amarista, 2, solid sliced liner on a decent knee-high fastball

Bobby Abreu, 3, curve around the thighs is too easy, single into left-center

Hunter, 3, curve hangs and is destroyed over Conor Jackson's head in left, double

Vernon Wells, 3, medium ground ball up the middle tips off McCarthy's bare hand; if he doesn't touch it, though, I think it gets through the infield anyway

Kendrick, 3, fastball gets too much plate, ripped off the wall in right-center, double

Hank Conger, 3, jam shot bloop single to right-center

Erick Aybar, 4, grounder to Mark Ellis's left just out of his reach, not hit 


very hard, single

Kendrick, 5, after fouling off a bunch of pitches, hits a medium ground ball 


to the left of second that Pennington dives for and keeps in the infield, but has no play at first on; a location hit, not quality

Conger, 5, fastball smashed off the wall in right, double


Bourjos, 5, good line drive into right-center, and he's ridiculously fast, 


like faster than Rajai Davis fast, so it's a stand-up triple

Aybar, 6, soft fly to center drops in for a single

By my count, what that all adds up to is four or five of the fourteen hits that can be rightfully attributed to the BABIP Monster, six that were very well hit, and the other three or four somewhere in between, hits that don't make you throw up your hands in frustration, but also that weren't exactly scalded. Six well-hit balls for doubles and triples is, of course, too many, but it's also in the nature of Brandon McCarthy's pitching style -- he gets ground balls, so on nights when he's just a little off, he's going to get line drives instead of ground balls. Last night was the first time he's been that little bit off in an A's uniform. With any luck, this once-per-month routine will hold going forward.
---
Standings: (5) Crisp; (4) Ellis; (3) Barton, Suzuki, Willingham; (2) Jackson, Pennington; (1) DeJesus, Matsui. ↩