Game 25, A's 2, Angels 1 (12-13)
By Jason Wojciechowski on April 28, 2011 at 1:00 PM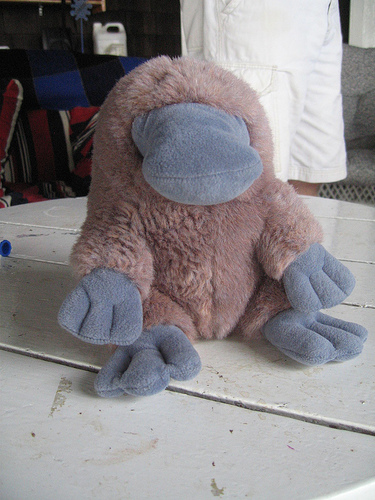 Photo credit: Peter Samis
Well, that was a ridiculous game. Dan Haren did Dan Haren things, giving up one run in seven innings on an assortment of mid-80s stuff that moved in whichever direction he felt like with the four-seam fastball and slower curve mixed in, generally befuddling the A's hitters.
The Angels hitters, though, took exactly the wrong approach against Tyson Ross, putting the ball in play early in counts, not letting Ross's control get him into trouble (though Ross helped himself out by actually throwing more strikes this time out). Then came the defense and the bullpen, with Kevin Kouzmanoff's error in the ninth letting the tying runner on and Brian Fuentes's elevate fastball gifting Bobby Abreu the double that knocked in the run.
But then came the Angel defense, as Peter Bourjos distracted Vernon Wells on a low fly to left by Cliff Pennington, who made it all the way to third after the ball biffed off of Wells's glove. Even the A's couldn't manage to blow a runner on third, no-out situation against Jordan Walden, though it took a high chopper off the plate, hardly a solid single or sacrifice fly, to get the run in.
Still, I'm sure we'll all take the win heading into a four-game series with a Rangers squad that would love nothing more than to run away from the pack early in the season.
Box & Notes
| Player | PA | TOB | wRAA | WPA |
| --- | --- | --- | --- | --- |
| DeJesus (RF) | 5 | 2 | -.008 | -.05 |
| Barton (1B) | 5 | 2 | .296 | .02 |
| Jackson (LF) | 5 | 0 | -1.280 | .02 |
| Matsui (DH) | 5 | 1 | -.720 | -.07 |
| Ellis (2B) | 4 | 1 | -.112 | -.03 |
| Sweeney (CF) | 4 | 1 | -.312 | -.07 |
| Powell (C) | 4 | 1 | -.464 | -.02 |
| Kouzmanoff (3B) | 4 | 1 | -.312 | .06 |
| Pennington (SS) | 4 | 1 | .264 | .19 |
One interesting lineup note: David DeJesus got the start in right, with Ryan Sweeney in center even though in Game 24, DeJesus slid to center with Sweeney in right when Coco Crisp came out of the game. It was unclear what the roles of Sweeney and DeJesus were going to be when Crisp was hurt or needed a day off. Early season returns indicated that DeJesus would be the man in the middle, but that's less certain now.

The other lineup change was Landon Powell starting at catcher, which he might have done anyway with a day game (though it was a 4pm start, not 1pm) following night -- Kurt Suzuki, however, was away for the birth of his daughter, who he Tweeted today arrived just fine. I assume he'll miss another day or two on the paternity leave list, with Josh Donaldson up to take his place on the roster.

Offensive Player of the Game isn't easy this time, as Cliff Pennington's "triple" was really generous scoring (and weird, because the line often seems to be whether the ball touches the defensive player's glove or not; as I recall, the hit did tip off Wells's glove in left), so he's out despite leading the team in WPA and finishing second in wRAA. That really just leaves Daric Barton, who doubled and walked, but his walk was intentional. On the other hand, his double was sharply hit and was the A's only (legitimate) extra-base hit of the night. Also, he had the sacrifice fly in the third that scored the first Oakland run. So I guess I grudgingly give Barton the award.1

David DeJesus was hit by a pitch and bunted for a single. He also left Cliff Pennington on third with no outs in the tenth by only hitting a weak chopper to the pitcher. Nice job in the leadoff spot, DeJesus.

It's a good thing that GWRBI aren't a stat anymore, because this one goes to Conor Jackson for his chopper that happened to hit the plate and thus bounce high enough that Cliff Pennington could score in the tenth without a throw.

Hideki Matsui saw 27 pitches in five trips and hit two balls hard to the outfield, but wound up with just an early walk. Sometimes you just get on the plane to Texas and hope things get better.

Landon Powell scoring without a throw on a sacrifice fly when the ball wasn't hit to the warning track? I wouldn't have put money on that happening. The man has the speed of a wounded platypus.

Whatever credit you take away from Cliff Pennington for not really hitting a triple in the tenth, we should recognize that he was down 0-2 before taking a slider, fouling off a fastball, and taking another fastball to get to 2-2 before hitting the low fly/liner to left.

Thing I wrote in the top of the first: "pitch classification is going to be hopeless -- Haren throws like 80 pitches"

Thing I wrote in the top of the fourth: "while this at-bat is happening, Tommy Lasorda is spied in the stands; just as Glen is talking about Tommy being known to doze off, Tommy looks like he dozes off, so Glen finishes with 'like now' -- tremendous"

Jordan Walden throws gas.
| Pitcher | Outs/TBF | Str/Pit | K | UBB | HR |
| --- | --- | --- | --- | --- | --- |
| Ross | 21/23 | 47/76 | 3 | 1 | 0 |
| Balfour | 3/3 | 7/11 | 1 | 0 | 0 |
| Fuentes | 3/6 | 15/29 | 1 | 0 | 0 |
| Ziegler | 3/3 | 8/10 | 0 | 0 | 0 |
Tyson Ross was good, getting lots of ground balls and throwing a very solid number of strikes. The baserunners he allowed were a solid line drive single by Alberto Callaspo (wiped out by a double play), a bunt hit by Peter Bourjos, a bad walk to Bobby Abreu (wiped out by a another double play), a soft single by Alexi Amarista (wiped out by yet another double play), and a ground ball single to Vernon Wells. Ross won't throw like this every time out, but if he can do it with some reasonable frequency, he'll live up to the hype A's fans feel for him.

Brian Fuentes was victimized by Kevin Kouzmanoff's error, but he also got away with a monster -- with Erick Aybar attempting to lay down a sacrifice, Fuentes delivered a breaking ball in that hit Aybar. Replay showed that he very clearly pulled the bat back from the strike zone before being hit, but the first-base umpire ruled that the bat was still in the zone, so the play was ruled a strike. (Aybar put down a two-strike bunt after all, but first-and-second with no outs is a lot worse than second with one out)

The replay also showed that it's understandable why the umpire made the call -- the way Aybar moved his body at the same time that he pulled the bat back made it look like he took a stab at bunting the ball and missed it. Still, it was objectively the wrong call, so the A's can count their blessings.

Let's talk about this intentional walk that followed Bobby Abreu's double. It was a 1-1 game, bottom of the ninth, one out. Torii Hunter was batting and Vernon Wells was up next, so platoon issues were not in play. However, this might have been the single situation in which the intentional walk makes sense. The runner on second is the only one who matters -- if he scores, the runner on first runs to the middle of the diamond and celebrates with his team. If he doesn't, the runner on first goes back to the dugout and grabs his glove, because we're going to extras.

Now, this isn't strictly true. If a play happens such that Abreu is out at third but everyone else is safe, then the Angels would have runners on first and second with two out, rather than just a runner at first with two out. That said, how often does a runner on second make an out at third unless it's a force?

The numbers, as I've Googled them, do not appear to support me here. At Phil Birnbaum's site, he has this table that shows the win expectancy as gathered from 1979-1990 data. It shows that pre-intentional walk, the Angels had a 70.3% chance of winning, while after, they were 72.7% to win teams in that position had won 70.3% of the time, while post-walk, teams had won 72.7% of the time.

I wonder, though, whether in this case, raw win expectancy is a blunt tool. How many of the first-and-second situations came from a pitcher giving up two single baserunners? Do those indicate some weakness on the part of the pitcher such that the next hit that scores the winning run is more likely to occur, compared to just the runner on second, who may have gotten there via a double, single + steal, single + wild pitch, etc.?

What I'm wondering, then, is whether the win expectancy data contains too much information about the quality of the pitcher involved. I would be interested to do a narrower analysis to determine how often walking the man behind the runner on second worked. Sadly, it's not something I have the time to put together right now.
---
Standings: (5) Crisp; (4) Barton, Ellis; (3) Suzuki, Willingham; (2) Jackson, Pennington; (1) DeJesus, Matsui. ↩