Game 58, A's 6, Red Sox 8 (27-31)
By Jason Wojciechowski on June 4, 2011 at 11:40 AM
Well goddammit. Putting up six runs in a game started by Clay Buchholz is a nice thing to do. Allowing eight, even when it's Josh Outman's turn in the rotation? Not so nice.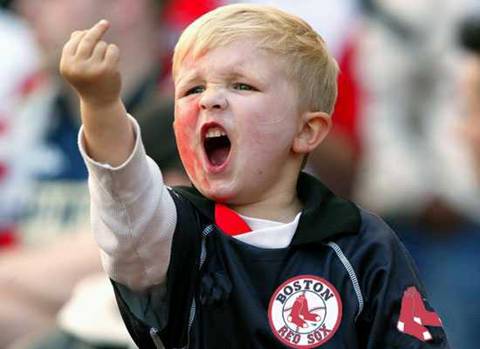 Box & Notes
| Player | PA | TOB | wRAA |
| --- | --- | --- | --- |
| Crisp (CF) | 5 | 1 | -.368 |
| DeJesus (RF) | 5 | 2 | -.008 |
| Willingham (LF) | 5 | 3 | 1.464 |
| Matsui (DH) | 5 | 0 | -1.280 |
| Suzuki (C) | 4 | 2 | .248 |
| Barton (1B) | 4 | 2 | .400 |
| Ellis (2B) | 4 | 1 | -.312 |
| Kouzmanoff (3B) | 3 | 1 | -.056 |
| --Sweeney (PH) | 1 | 0 | -.256 |
| --LaRoche (3B) | 0 | 0 | --- |
| Pennington (SS) | 4 | 2 | .248 |
Coco Crisp stole a base against Tommy Hottovy,1 a left-handed reliever making his major-league debut. Poor Jarrod Saltalamacchia had no chance on the throw. Welcome to the big-leagues, kid!

Josh Willingham had a nice game with two doubles and a Monster single. He also took off for third on a weird play in the seventh that resulted in Bobby Jenks balking. I'm not entirely sure why it was a balk, but Kuiper and Fosse seemed convinced, even if Terry Francona wasn't, so I'm good with it.

Welcome back to the lineup, Hideki Matsui.

One amusing point of his day: when he scored on a Daric Barton single, just ahead of Mike Cameron's throw from right field, Jarrod Saltalamacchia was in a nearly identical position as Buster Posey was on The Play. Matsui slid to the outside, as happens on probably 99% of similar plays, but Ray Fosse decided to give a dissertation on how that was the right play and how, even with Saltalamacchia's foot sort of in front of the plate, based on where he was receiving the ball, the slide to the outside was a perfectly reasonable play for coming home safely.

Kurt Suzuki had a single and a walk, but this blog being what it is, let's focus on the negative: his pitiful fifth-inning at-bat with Josh Willingham on third base and one out. Clay Buchholz started things with a fastball on the inside corner that Suzuki whiffed on. It's not the kind of pitch I'd usually advise swinging at to open an at-bat because even if you make contact, you're not likel to hit anything solidly. He then followed up by whiffing on the next pitch, a fastball that looked a little low. After a ball, he popped out to the catcher. With a runner on third and one out, let me re-emphasize. In a game the A's ended up losing by two.

Daric Barton, newly moved to the sixth spot in the order in light of his struggles at the plate, had a line single to right, two sharp grounders, one for an out and one for a single, and a weak grounder for a double play. All in all, three outs and two times on base is a better rate than he's been hitting at this year.

Perhaps most importantly to frustrated A's fans, Barton didn't take a single fat pitch. In fact, he took just one strike total, a fastball on the outer half on 1-0 in the fifth inning. He wound up hitting his second single in that at-bat, knocking Buchholz out of the box and giving the A's a 6-5 lead in the process.

Mark Ellis had some interactions with the Red Sox defense in this game. In the first inning, he hit a chopper up the middle that looked for all the world like it would be a groundout to Jed Lowrie, ending the inning with the A's up 2-0. Instead, the ball just got past the diving Lowrie's glove for a single, and the A's found themselves with a 4-0 advantage. I described the play in my notes as "Jeterian," but it's hard to know whether that's fair. I watch a lot of baseball, but I still have trouble judging whether a fielder should or should not have reached a ball. (For what it's worth, Jed Lowrie is not well regarded by FRAA, and the Fan Scouting Reports rate his instincts, first step, and speed in the 50s (out of 100).)

Ellis also hit a fly to the Monster that might have been a double, but Jacoby Ellsbury made a ... well, it wasn't quite a leaping catch. Let's call it a hopping catch. He didn't end up having to leave the ground all that far to make the grab, but he did have to arrive at the spot in time and time it, so it was still a nice play.

Kevin Kouzmanoff is nothing if not a station-to-station player, so the Red Sox decided to make a gift of a couple of stations to him in the fourth. After he hit a topspin-heavy line drive to center for a single, he was moved to second by an errant pickoff throw,2 then to third by a passed ball / wild pitch, before scoring on a ground ball to first. Adrian Gonzalez had a shot at throwing Kouzmanoff out at the plate, but he hesitated a bit on deciding what play to make, it seemed, and then his throw was a little bit high -- not high enough to make Saltalamacchia jump or anything like that, but the throw to get the out would have needed to be low and on the plate to allow the catcher to sweep into the tag. With Saltalamacchia having to reach up and then try to swipe the tag down, Kouzmanoff was clearly safe.

Kouzmanoff on defense giveth and taketh away, as has been the case all year, it seems. In the second, he got an easy grounder that he just threw away, hopping the ball past Barton and out of play, allowing Mike Cameron, who'd later score, to stand on second base instead of heading back to his own dugout. On the other hand, in that very same inning, with Saltalamacchia on first base, Dustin Pedroia hit a sharp grounder to Kouzmanoff's left that the third baseman dove to stop before making a sharp throw to second to end the frame.

Cliff Pennington's walk in the fourth got a "nice at-bat" marking in my notes, as he fouled off, with two strikes, three fastballs in different locations and a curve at the knees as he worked his way from 1-2 to the free pass. One of the foul balls was on a fastball that looked hittable, but I'm not going to complain especially loudly when the final result is the man reaching base.

Not sure where else to put this, so: Jonathan Papelbon is pretty good.
| Pitcher | Outs/TBF | Whf/Str/Pit3 | GB/BIP | K | UBB | HR |
| --- | --- | --- | --- | --- | --- | --- |
| Outman | 8/16 | 5/36/67 | 4/13 | 2 | 1 | 0 |
| Moscoso | 7/9 | 7/26/39 | 1/6 | 3 | 0 | 0 |
| Breslow | 3/3 | 1/12/14 | 2/3 | 0 | 0 | 0 |
| Devine | 2/5 | 2/12/24 | 1/3 | 0 | 2 | 0 |
| Fuentes | 1/2 | 0/4/8 | 1/2 | 0 | 0 | 0 |
| Wuertz | 3/5 | 0/10/16 | 2/5 | 0 | 0 | 0 |
Josh Outman didn't pitch well. He's not a ground-ball pitcher, so the grounder rate above isn't necessarily alarming, but his pitches were definitely elevated, allowing balls to be put in play, both hard and soft, in ways that can turn out to hurt.

This isn't to imply that Outman was dinked and blooped to death. The Red Sox' first run came after a bloop single, sure, but Carl Crawford also hit a ball to the short wall in right that, had David DeJesus not gotten to, would have left the yard. That's putting aside the various line drives hit by Kevin Youkilis, David Ortiz, et al.

Guillermo Moscoso, by contrast, pitched just fine. Given his pitch assortment (a decent fastball without a ton of movement or velocity, a change that he apparently has a tendency to telegraph, and an occasional breaker), you wouldn't expect three strikeouts in nine batters, or seven whiffs in 39 pitches, but that's exactly what he got.

Moscoso did give up two line-drive singles to Adrian Gonzalez and Kevin Youkilis to start the fifth, but he battled back with a whiff, popup, and ground ball to Daric Barton to get out of the jam. While five of his six balls in play were in the air, two of them were popups to infielders in foul territory, and a third was a fly to David DeJesus that was little more than a pop.

Daric Barton let Craig Breslow down by once again ranging too far to his right on a ground ball that he should have let Mark Ellis play, this time not resulting in an infield single but an error as he dropped the transfer. Breslow got a Saltalamacchia grounder to Kouzmanoff's left, though, to erase the base-runner.

Joey Devine ends up the game's goat along with Josh Outman, as he gave up a line double off the monster to Adrian Gonzalez before hitting Youkilis and walking Ortiz to load the bases. He managed to induce a popup from Jed Lowrie before giving way to Brian Fuentes, and the Carl Crawford hit that Fuentes allowed was the weakest, bloopiest piece of bullshit I've ever seen in my damn life, but still: Devine can't load the bases with one out in a one-run game and expect anything good to come of it.

Ray Fosse said that the problem with the Crawford at-bat was that Fuentes fell behind, but I disagree. Yes, Fuentes did fall behind, but the result was not a hittable fastball that Crawford lined to center. The at-bat ended on a 3-2 fastball that might not even have been a strike that just blooped, as I've already said, out beyond the reach of anyone.

It's a little weird to see a Michael Wuertz appearance that lasts 16 pitches and has no whiffs.
---
Hottovy's got a funky delivery and comes from way over on the left side. It looks like he probably hides the ball well, and his delivery might mean he could have a future as a LOOGY if things break right. ↩

Nothing angers Ray Fosse more than an error on a pickoff throw when the runner is someone who never steals bases. ↩

As you can see, I have added another stat to the table -- "Whf" means swings-and-misses, and will include foul-tips caught by the catcher. ↩