2011 Retrospective #4: Jordan Norberto
By Jason Wojciechowski on November 25, 2011 at 1:45 PM
Happy Thanksgiving. Our next 2011 retrospective subject is the young lefty reliever Jordan Norberto. The pitcher is a relatively recent addition to the A's, having come over as the secondary piece (behind somewhat promising first baseman Brandon Allen) in the Brad Ziegler trade with Arizona at the July trading deadline.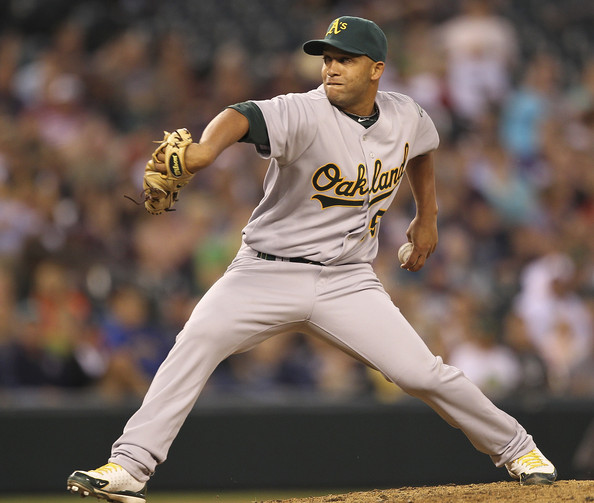 Norberto is a medium-sized (6'0", 195) almost-25-year-old (December 8th birthday) out of the Dominican Republic in 2004. He was never a major prospect, and his only writeup in a Baseball American Prospect Handbook came before the 2010 season, when the fine folks at BA ranked him the 29th-best young 'un in the Arizona system. The writeup stated that he had good velocity for a lefty (92 mph fastball that could touch 95), but had no secondary pitch and no command.
The stats, both from Norberto's debut in 2010 with Arizona and from his abbreviated (6 2/3 innings, 35 batters faced) campaign with the A's in 2011, at least back up the "no command" aspect -- he's walked a shocking 28 batters unintentionally in just 26 2/3 major-league innings. While nothing could overcome that type of walk rate, his strikeouts haven't even been that special to give some hope for the future, as he's whiffed just 19 men. Add in a handful of homers (all with Arizona) and you've got a major-league FIP of 6.51.
In the minors, at least, he's been striking guys out: 64 whiffs in 57 innings across two AAA franchises in 2011, and "just" 30 walks. Those numbers would make me perfectly happy if he put them up as a bullpen contributor in the bigs, but the step up from AAA to the majors is not trivial.
Lumping Norberto's two seasons of PITCHf/x data together at Texas Leaguers shows what looks to me like a three-pitch-pitcher:
That's a 90-95 fastball, a handful of changeups, and a breaking ball with enormous variation in spin angle.
If you want reason to be hopeful about Norberto, it's this: five of his seven walks with the A's this year came in one performance on August 25th against the Yankees. If Norberto had been injured on August 24th, his season stat line would have read: six innings, seven hits, two walks, four strikeouts. The tininess of this sample cannot be expressed enough, but that's basically a mediocre game for a starting pitcher, which is a massive step up from his actual line.
Of course, when you're saying things like "his upside looks like a game you hope for from your #5 starter," you probably don't have a whole lot that you're working with.
Norberto is still on the 40-man roster for now, but per the official team site, there are 39 men currently on that roster, and I'm not sure that Norberto isn't #39. He can survive one free-agent signing, maybe two if Neil Wagner gets the axe before he does, but if Oakland picks up two outfielders and a starting pitcher, say, Norberto may not survive to see spring with this team.