2011 Retrospective #5: Jai Miller
By Jason Wojciechowski on December 3, 2011 at 12:10 PM
With the four "excess" pitchers burned off, it's finally time to retrospect1 a hitter. The player with the least number of plate appearances for the A's this season was everyone's favorite outfielder, Jai Miller.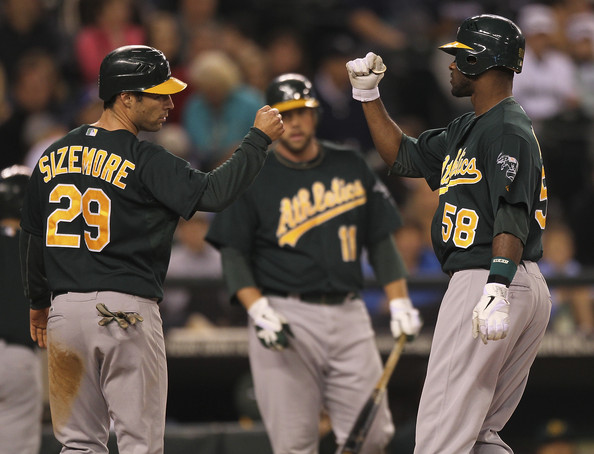 If it seems like Miller has been around forever without ever making an impact, that's because that's exactly the case. The righty outfielder was drafted out of an Alabama high school in the fourth round in 2003 and debuted with the Marlins' Rookie and Low-A teams that same season, though without making a positive impression (206/282/270 aggregate line). We need a table to list all the times he was in Baseball America Prospect Handbooks:
| Year | Team | Ranking | OFs ahead2 |
| --- | --- | --- | --- |
| 2004 | Marlins | 9th | Jeremy Hermida, Eric Reed |
| 2005 | Marlins | 16th | Jeremy Hermida, Eric Reed |
| 2006 | Marlins | NR | Jeremy Hermida, Eric Reed, J.T. Restko, Greg Burns, Reggie Abercrombie |
| 2007 | Marlins | NR | Kris Harvey, Tom Hickman, Brett Carroll, John Raynor, Jose Campusano, Greg Burns, Eric Reed, Alejandro De Aza |
| 2008 | Marlins | 30th | Cameron Maybin, Mike Stanton, John Raynor, Scott Cousins, Greg Burns, Brett Carroll, Tom Hickman |
| 2009 | Marlins | NR | Cameron Maybin, Mike Stanton, John Raynor, Scott Cousins, Isaac Galloway, Bryan Petersen, Greg Burns |
| 2010 | Marlins | 28th | Mike Stanton, Isaac Galloway, Scott Cousins, Bryan Petersen, Marcell Ozuna |
Once upon a time, in other words, Miller was a prospect, but he fairly quickly fell to minor-league-depth status. A quick glance at his Baseball-Reference card shows why: he didn't hit until he was 22. Through his first four seasons in the minors (counting the half-season when he was 18), he hit 207/291/316. As you can tell, he actually had a pretty decent walk rate (9.95% of his plate appearances), but he whiffed an absurd number of times (36% of at-bats, 31% of PAs).
Something happened in 2007, though, as from that year forward, while he still struck out with the same alarming frequency (35% of ABs, 30% of PAs), his batting average jumped from .207 (2003-2006) to .269 (2007-2011) and his slugging shot all the way up to .499. Further, he did this while stealing bases at a solid rate (78% on 76 attempts), including a perfect 16/16 in Sacramento this season.
A look at his Baseball America write-ups might shed some light. Early books noted that he was a superb athlete, the first three-sport all-state athlete in Alabama history (!), headed to Stanford to play wide receiver and point guard. As you'd expect from a Stanford signee, his makeup, work ethic, and intelligence were all rated very highly, and as you'd expect from a wideout, his speed was superb (70 on the scouting scale). Finally, as you'd expect from a three-sport star, he was raw, particularly as to his pitch-recognition.
The 2008 book noted that Miller had taken a step forward with his plate discipline and started driving balls, especially by using his bat speed to wait on pitches and hit them to right-center. The 2010 book claimed that he'd started to close the holes in his swing, citing his improved batting average.
The scouting information from the BA books thus appears limited. It's nice to say that Miller closed the holes in his swing, but how much does that mean if he's still striking out at rates that would make Adam Dunn blush? He's obviously hitting the ball harder than he did in the early years in the minors, but why? And is it sustainable? The 2010 book mentions a Mike Cameron comparison, which makes some sense (great tools, high strikeouts, late bloomer), though Cameron was regarded as a plus center-fielder, while Miller has only finally in the last year or two stopped taking Magellan-ian routes to the baseball.
After all this, by the way, Miller is still just turning 27 in January. If he sticks in the A's organization, maybe Oakland could see what just what he has to offer in 2012. Is a 1997 Mike Cameron season (.272 True Average, plus defense in center) likely? No. Is it within reach? Maybe! Just what do the A's have to lose, exactly?
Miller's 2011 in Oakland, being made up of exactly twelve plate appearances, doesn't really need more than a few sentences, though it's worth noting that he was part of the A's six-run rally on my birthday (September 25th) to beat the Angels. He pinch-hit for Eric Sogard in the eighth with the score 3-0 Anaheim and knocked a single to center. He eventually scored the A's second run on Coco Crisp's sacrifice fly to center.