2011 Retrospective #6: Bobby Cramer
By Jason Wojciechowski on December 5, 2011 at 10:35 PM
Catastrophe and disaster here at Beaneball: I skipped Bobby Cramer! Cramer faced 31 batters with Oakland this year, the same number as Andrew Carignan, and four fewer than Jordan Norberto, yet I have written about Cramer not a word, despite him having one of the most interesting back-stories on the team.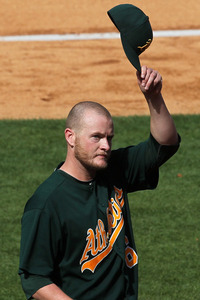 Cramer, as many A's fans know, had a rough road to the majors -- he was not even drafted out of college, and signed with Tampa Bay as a free agent. He spent two years in their minor league system, pitching adequately (strikeout rate around 6.5, walks around 2.0), but not really distinguishing himself, especially given that he was a 23-to-24-year-old reliever in A-ball, so he was cut before the 2005 season. Apparently unable to land a job anywhere in the U.S. (and unable or unwilling to go to Korea or wherever else professional baseball is played), he got a job doing pipeline maintenance and substitute-teaching.
The A's picked him up as filler in 2007, and he actually put up a 1.89 ERA in 52 innings in Midland, backed by strikeout and walk rates of 8.6 and 1.7 per nine. Still unimpressed, the A's cut him, so Cramer went to the Orange County team in the Golden Baseball League for 2008. The A's picked him back up in 2009 and loaned him to a Mexican team for most of 2010, though he managed to throw 23 2/3 big-league innings as well. This year, he tossed eight frames in the majors and another 22 in Sacramento before he was cut loose in July.
There's not a lot of point analyzing Cramer's year with the A's, successful as it was (six strikeouts, one walk, one homer in 8 1/3 innings), because the odds he makes it back to Oakland are at least as slim as the odds he would ever ascend there in the first place. Still, if this is the end, the man who was not even drafted winds up with a 2.53 ERA in 32 major-league innings for his career line. He didn't exactly make enough money to spend the rest of his days idle, but he'll have those stories for his grandkids about the time he struck out Adam Dunn.
"But granddad, everyone struck out Adam Dunn. Plus, you gave up a homer to Jeff Francoeur."
"Doesn't matter."