2011 Retrospective #7: Anthony Recker
By Jason Wojciechowski on December 17, 2011 at 3:50 PM
Anthony Recker, who managed twenty-one plate appearances in five games between August 25th and September 11th, is next up in the retrospective series. Recker "played the season at" 27, but turned 28 in late August, is a catcher, and carries the middle name "Vito."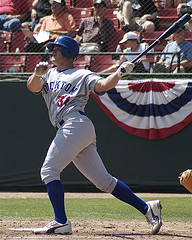 by Tom Clifton
I won't insult you by telling you how he hit in the majors because, like I said, it was twenty-one plate appearances. Those games also equal the sum of his major-league experience after six full seasons (and one partial year back in 2005 after signing out of Alvernia College in Reading, Pennsylvania1) in the minors. As you'd expect for someone who's been in the bus leagues for that long, he's racked up a lot of AAA plate appearances -- just shy of one thousand, in fact. The bat hasn't been the problem in Sacramento, as he's managed a .279/.358/.483 line there,2 which is pretty nice for a catcher, even in the PCL. Clay Davenport's Davenport Translations, for instance, convert that to a .253/.338/.421 line, superior to the DT line put up by Kurt Suzuki. That's not what you'd expect Recker to hit in Oakland, but going apples-to-apples as best we can like that, it is interesting that the A's have a guy in the organization who plays catcher and evidently can hit a little bit, but continue to hold on to Suzuki as the every-day starter, not to mention Landon Powell as the backup, despite Suzuki having reached the phase of his career in which he's merely underpaid relative to his production rather than massively underpaid.
As always, particularly with the difficulty of evaluating catcher defense from the outside, it's possible that the A's have excellent reasons for not pushing Powell or Suzuki out of the way to accommodate Recker. Some of those are obvious on the surface: Baseball America noted before the 2007 season that Recker had tremendous tools and a good arm, but made a lot of errors and allowed a bundle of passed balls. The book also questioned generally his ability to receive pitches and handle a pitching staff. The 2008 book noted more of the same problems, except that his strong arm didn't even translate to good base-stealing numbers, as he nabbed just 18% of runners in 2007.
Recker wasn't written up in the 2008-10 books and was listed behind players like Landon Powell and Josh Donaldson on the catcher depth chart. In a final indignity, he wasn't even listed on that depth chart in the 2011 book. Given that his writeups consistently noted that he was the strongest player in the organization and had legitimate power, I think it's fair to say that the A's agree with the sentiments regarding his catching ability. If you're Mike Piazza or Jorge Posada with the stick, a team will live with your inadequacies behind the plate, but nobody thinks Recker was ever that good.
I'd guess that we haven't seen the last of Recker, but given that Suzuki and Powell are under contract, Josh Donaldson exists, and Ryan Ortiz and Max Stassi are sure to get chances to succeed, I wouldn't imagine that Recker will ever have a permanent job in Oakland, even as a backup.
---
Recker is the only player to make the majors out of Alvernia, though Zach Lutz, a Mets 5th round pick in 2007 who hit .295/.380/.500 in half a season at Buffalo (AAA) last year should hit The Show at some point, especially since he's been placed on the 40-man roster as of this offseason. Injuries appear to be his problem, as his season-high in plate appearances is just 385, and his Wikipedia page notes that he suffered a stress fracture in his foot in 2010. ↩

For what it's worth, Recker has always been regarded as a hitter. Baseball America's 2006 Handbook stated that Recker had the best raw power of anybody in the A's 2005 draft class, which is a pretty pleasing thing to hear about a catching prospect. ↩