2011 Retrospective #8: David Purcey
By Jason Wojciechowski on December 18, 2011 at 10:40 PM
David Purcey, a Texan who shamefully defected to Oklahoma to play baseball before eventually throwing 12 2/3 innings for the A's this season, is our next subject. Purcey has been connected with six franchises already in his baseballing career, having been drafted by three (Seattle, New York's AL squad, and Toronto), traded to two (Oakland, Detroit), and signed by one to a minor-league contract (Philadelphia, his current squad as of December 9th).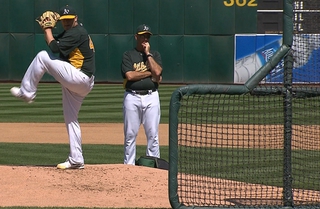 His A's career is remarkable mainly because Billy Beane somehow turned Danny Farquhar, a fringe pitcher if ever there was one, into Scott Sizemore, who is quite possibly a league-average third baseman. (Some would say he's better than that, but we'll get into that in a more appropriate space, like Sizemore's eventual retrospective.)
It would be pretty mean to leave Purcey's write-up at that, though, so I'll say just a little more: he's a big-ass lefty (6'5" 230) with a live arm (his fastball zings in at 90-95 mph) who experienced success in his short time in Oakland, especially showing multi-inning capabilities (he recorded at least four outs in his first two and last two A's appearances), which is perhaps not a surprise given that he's made 21 big-league starts (albeit most recently in 2009, and with very little success).
He is a former legit prospect (16th overall pick, $1.6M bonus, Baseball America's #3 Blue Jays prospect in 2006) with high marks on his pure stuff, but his command has never shown up -- his career walk percentage, per Fangraphs, stands at 12.4%, against a league average that tends to start with an 8.
Purcey is, as I said, not in the organization anymore, so I don't have to worry about finding his place for 2012. I also wouldn't, were I you, worry about the Purcey-Sizemore trade coming back to haunt Billy Beane when Purcey turns into a stud reliever for the Phillies. Anything can happen with a relief pitcher, but I'm not sure there's an A's fan anywhere who wouldn't take Sizemore now and forever in that deal. It may not be a nationally famous swindling ten years from now, but it does tend to make me think that Beane still has his fastball.
Oh yeah, also, he wears enormous shoes.