2011 Retrospective #9: Michael Taylor
By Jason Wojciechowski on December 28, 2011 at 1:05 PM
The occasional series that will probably finish before the start of spring training (hopefully) continues today with Michael Taylor, erstwhile prospect. Taylor got the first 35 big-league plate appearances of his career with the A's this season at the age of 25 (he turned 26 nine days ago) as a September call-up. He actually got hits in five straight games from 9/6 to 9/20, capped with a homer against the Rangers, but overall he batted just .200/.314/.300.
I almost feel like taking a shower after writing a player's slash line in 35 PAs, but I refuse to take it back now. It's there. It's done.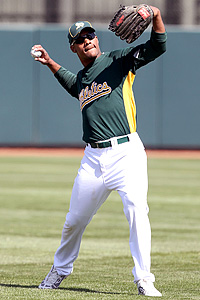 Taylor is a big (6'5" and 255 says Baseball-Reference) outfielder who was drafted by Philadelphia (out of Stanford) in the fifth round in 2007. He worked his way up the prospect ladder before being traded to Oakland by the Blue Jays, who had acquired him as part of the Roy Halladay haul. The A's sent Brett Wallace north for Taylor. (Wallace was then flipped to Houston for Anthony Gose.)
Taylor cracked the 1000-PA mark in AAA this season, where he has managed a .273/.354/.428 line, mostly in Sacramento, but with 128 PAs in Lehigh Valley of the International League. That would be a good player in Oakland -- Scott Sizemore batted .249/.345/.433 for the A's this year, and FanGraphs translates that to a 118 wRC+. Unfortunately, Taylor hasn't put that line up in Oakland. Instead, he batted .272/.360/.456 in Sacramento this season, stats that Clay Davenport translates to just .243/.313/.381 at the major-league level, hardly the stuff dreams are made of.
This isn't what Taylor was supposed to be. He batted .346/.412/.557 split between A and A+ levels, then kept raking in 2009 at AA and AAA, to the tune of .333/.408/.569. Taking the minor-league air out of these lines still leaves you with a very impressive hitter. Stalling out this badly in Oakland is a massive disappointment, especially after Baseball America gave him good reviews to match his numbers -- he was rated the sixth-best Phillies prospect in the 2009 book, noting his strength and athleticism, though adding that, despite his intelligence, he had some strike-zone command issues. In the 2010 annual, he vaulted to #3 in Philadelphia and was rated 29th, 45th, and 23rd overall by Jim Callis, Will Lingo, and John Manuel respectively. The comment was basically the same as in 2009, but the criticism seemed muted as he'd just spent two years destroying the ball.
His weak 2010 season, though, dropped him to just 10th in the A's system, with Michael Choice and Aaron Shipman rating ahead of him in the outfield. The writeup sheds no light on his struggles, mentioning a shoulder injury that may have bothered him at the beginning of the year and some refined mechanics that the A's asked him to use to try to shorten his swing. The lost power was most concerning, and it did return to an extent in 2011, but not nearly to the point where we can get excited.
All that said, given the state of the A's outfield (with Andrew Bailey/Ryan Sweeney/Josh Reddick trade that was reported as I was writing this), Taylor will likely get a chance to sink or swim this season. MLB Depth Charts figures the A's to go with a Reddick/Cowgill/Taylor starting outfield, with Daric Barton at first and Brandon Allen DHing. This leaves Chris Carter on the outside looking in. Even if you figure him in for 1B/DH at-bats and let Brandon Allen try his hand at LF some times, it seems that there will be ample opportunity for Taylor to get 450 PAs in Oakland. I can't get optimistic about the results of such an experiment, but given his semi-recent past, there is hope.
And it'll sure be a lot more interesting than watching Conor Jackson or David DeJesus flail around.