2011 Retrospective #11: Chris Carter
By Jason Wojciechowski on January 2, 2012 at 2:30 PM
I've changed albums. Now on Case Studies's The World Is Just a Shape To Fill the Night ...
I've been dreading this one. Vernon Christopher Carter has the kind of power potential A's fans have been lusting after in a young player ever since ... what? Jason Giambi left? Eric Chavez went to an early grave? I don't know. It's been a long time, though, and there's been Hope In Oakland that he'd be a slugging first baseman with mediocre defensive skills from the day he was acquired in the Dan Haren trade with Arizona, all the way back in the winter of 2007.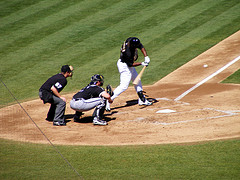 by Dinur Blum
Carter has hit in the minors, no doubt. In Stockton in 2008, he went .259/.361/.569, striking out 156 times, but taking 77 free passes and slugging 75 extra-base hits in just under 600 PAs. (Four of those were triples. What?) He moved up to Midland and cut the whiffs while not losing anything else, hitting .337/.435/.576. He did trade some homers for doubles, which is backwards, but, hitter's haven that the Texas League is, might be explained by leaving the Cal League.
Even upon rediscovering the strikeout in 2010 in Sacramento, he hit something very similar to his Cal League days: .258/.365/.529. He was hampered by a thumb injury in the minors this year, limiting him to under 350 PAs, but he still hit a nearly identical .274/.366/.530.
He has, in other words, established his minor-league credentials. He'll strike out a fair amount, walk a lot (well over 10% of his PAs at every stop), and hit doubles and homers at excellent rates. He'll also play uninspired defense (his FRAA numbers and scouting reports are negative; he's also failed the eye test in his brief major league appearances, for whatever that's worth) at non-premium positions. All this while still having just turned 25 a few weeks ago, even though it feels as if he's been around forever.
So what's the problem? For one thing, the PCL. If you like Clay Davenport's Davenport Translations, you can see Chris Carter's here. His performance at AAA the last two years, impressive though it is on the surface, translates to just league-average hitting. Given the offensive standards at first base, that isn't going to cut it for a team that hopes to contend in a few years. (You can see Davenport's projections for Carter at the bottom of the page -- his 90th percentile projection would be a pretty good player, although note the positive defensive contribution. If he's instead that hitter (.280 EqA) and is a -5 defender instead of +5, then he's just a smidge over average. Average is fine, but you'd like to do better when your competitors are spending the way the Angels and Rangers (and Mariners?) are/are capable of.)
For another thing, strikeouts. Nobody cares if you're Adam Dunn at the big-league level. (Well, old Adam Dunn. Not 2011 Adam Dunn.) But if you're Adam Dunn in AA or AAA, what are you in the bigs? Probably not Adam Dunn. You can hit for all the power on contact you want, and you can have a great eye, but if you can't make contact, then you can't hit for power, and if you can't make contact, then all you'll see is strikes. (This is where I bring up 41 whiffs in 124 PAs in the major leagues, but I won't subject you to that small-sample-spread-over-two-seasons nonsense. He also hit three homers in 39 PAs from 9/22/10 to 10/3/10, but c'mon.)
The A's have Brandon Allen and Daric Barton already vying for 1B/DH at-bats, each of whom looks, in certain ways, like a more likely candidate to be a contributor to the next good A's team than does Carter, unless Big Vern takes a step forward. Then again, none of the A's 1B/DH types are currently contributors -- Allen needs to similarly take a step forward, and Barton needs to get his mojo (and/or shoulder) back -- so we could see Carter as a full-time starter in 2012-14 even if he never does improve.
One does hope that if Carter is on the big-league roster in 2012, Bob Melvin will play him more often than he did in September of 2011, when Carter managed exactly 14 PAs. (He did get a hit in the 9/25 game against the Angels, though, when the A's came back for an awesome win with me in attendance on my birthday. Props for that!)