2011 Retrospective #14: Joey Devine
By Jason Wojciechowski on January 14, 2012 at 3:00 PM
Joey Devine is a short-ish (6'0") right-handed relief pitcher who threw 23 innings in Oakland this season at the age of 27. He had walk issues, but didn't give up a single homer and struck out almost twice as many as he gave free passes (20:11, though he also hit two batters). This was Devine's first appearance in the bigs since 2008, when he threw 45 2/3 innings out of Oakland's bullpen after being acquired from Atlanta in the Mark Kotsay deal. (Jamie Richmond also came to Oakland in that deal, but it does not appear that he's pitched in organized ball since 2009 in Kane County and Stockton.) Devine had Tommy John surgery in April of 2009, but he needed two years to make it back, illustrating the point that however routine Tommy John can feel these days, it's still a major surgery and it's still impossible to say with any certainty how long it'll take for any given player to make it back.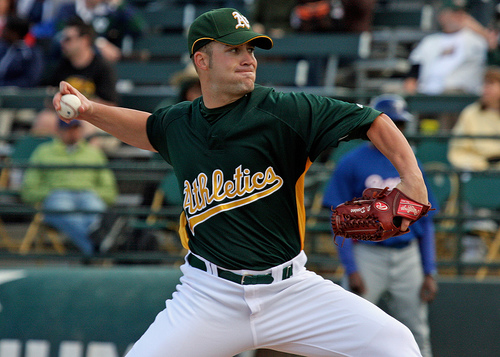 Image by Chris Lockard
Devine was once highly regarded, having been the 27th overall pick of the 2005 draft out of North Carolina State, and he put up some massive strikeout numbers as a minor-league closer, but he's had some bumps, perhaps being related to the Braves' rush to call him up (he appeared in the postseason the same year he was drafted), perhaps due to mechanics (his Baseball America write-ups indicate that there's been some adjustments on that front), and perhaps due to simple command (his walk rates have never been superb). Still, his velocity (his sinker comes in at 90-95, per the PITCHf/x data), big slider (nearly two standard deviations more drop and one standard deviation more horizontal movement) and beliefs about his makeup have him in the conversation to close games for Oakland in 2012. (Speaking of his slider -- check out the grip in that photo. What is that? Is that how Devine throws a slider? That's weird.)
It's entirely unclear to me how the A's view Devine, though. After pitching regularly in close situations (check his "entered" column in his game log at Baseball-Reference -- lots of one- and two-run game, some runners-on situations) from late May until late July, Devine had a poor game on July 22nd, managing just six strikes in eighteen pitches against the Yankees. He came back two days later, threw 10/15 pitches for strikes, giving up a single, sacrifice bunt, stolen base, and RBI groundout in one inning of work, though he did apparently throw a pitch behind a hitter, just as he had on the 22nd. He blamed the wildness on the humidity (the Bronx in July? That's plausible), but found himself demoted on the 28th, never to return.
When Michael Wuertz went on the D.L. two days later, Bob Melvin was asked about Devine possibly coming up to replace him instead of Jerry Blevins:
The recently demoted Joey Devine, trying to get his command back in Sacramento, was seemingly an option, but Melvin said, "I don't think we're quite there with him, yet."
That's pretty cryptic, isn't it? Quite where with him, exactly?
Wherever it is, I guess they never got there. Devine kept on pitching in Sacramento, so he wasn't hurt, and he wasn't walking five dudes every game, either.
Whoever Devine pissed off, I hope he unpisses them for the sake of Oakland's bullpen, because there are, what, two or three pitchers as good as him on the roster? On the other hand, maybe it doesn't matter that much -- it appears, at the very least, that options were used in 2006, 2007, and 2011, so the A's may not have the ability to send Devine down in a fit of pique.