Outfield and rotation after Smith-Moscoso-Outman
By Jason Wojciechowski on January 16, 2012 at 3:20 PM
Oakland, as you know, traded Guillermo Moscoso and Josh Outman, nominal starting pitchers, to Colorado for Seth Smith. I don't know if everyone's already passed their physicals and whatnot, plus maybe David Stern will have some words, but let's just pretend the deal is done and figure out what it means.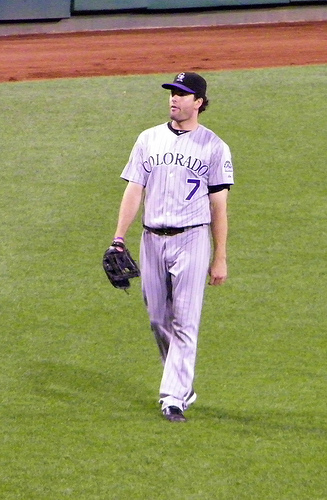 Image by Natalie Litz
First, the rotation. Prior to this trade, the A's had four veterans / guys whose service time we shouldn't worry about who were as lined up to be as ready on Opening Day as any baseball pitcher can be: Brandon McCarthy, Bartolo Colon, Guillermo Moscoso, and Josh Outman. These are the guys who weren't going to have a chance of starting at AAA and whose main job (outside of McCarthy, whose job is to be awesome) was going to be keeping Brad Peacock and Jarrod Parker from pitching in the majors before they'd forced their way up. (I guess you could quibble about whether Outman was such a lock, but whatever. He's gone now, so it's moot.) You might also put Tyson Ross in with those latter two, and if you love your soft-tossing lefties, maybe Tom[my] Milone as well.
Pedro Figueroa is also on the 40-man, but he hasn't pitched above AA, and Dallas Braden is hanging around, but counting with any degree of certainty on him being ready on Opening Day would be foolish. So maybe Graham Godfrey gets to be the A's sacrificial third starter? Nobody thinks he's much of a prospect, so there's no real point keeping him from getting to arbitration and free agency as quickly as he might otherwise.
Even if Godfrey is to be the volcano virgin, though, the A's are left with two spots to fill until Dallas Braden comes back, and then one spot before Brett Anderson makes his return. If Brad Peacock and/or Jarrod Parker have strong springs and are in the rotation on Opening Day, what happens when the injured pitchers come back, assuming McCarthy and Colon and Godfrey have held it together in the meantime? Godfrey's easy enough to send down, and you can make it even easier by labeling him the "fifth starter." You'd think, though, based on past experience, that once a Peacock or Parker is up, unless they struggle mightily and need to go work on some things, they're up, and nobody's going to push them back just because the roster is a little too full.
All of this makes me think that the back end of my rotation right now would be Godfrey, Ross, and, just to choose the most ready and least regarded of the new guys, Milone. You can, as I said, feel fine sending Godfrey to Sacramento or the bullpen, and you can at least feel OK putting Ross in the bullpen. (I'd consider Milone here to stay.) There's room for Braden (Godfrey) and Anderson (Ross) to come back, the big prospects can tear apart AAA while they wait for someone to get hurt or traded, and if four guys end up on the DL all at once, well, there's always Vinny Chulk.
Of course, that this is all logical to me means that it'll never happen. I have no idea what the A's development and contract philosophy is as regards Peacock and Parker, I have no idea what Tyson Ross and Tom Milone are capable of, and I have no idea have a pretty good idea, actually, that Graham Godfrey wouldn't appreciate the things I've said about him here. There are a lot of moving parts, not least the moving parts inside the shoulders and elbows of basically every one of these players, any of which moving parts could get out of whack at a moment's notice, throwing all these well-laid plans into the wood-chipper.
---
Ok, the outfield. With the additional news that the A's are still looking for a right-handed depth bat (Jonny Gomes, Cody Ross, Ryan Ludwick, that kind of dude), I think the starting outfield has solidified into Josh Reddick, Coco Crisp, and Seth Smith. (Smith, despite his potential platoon problems, is apparently to be an every-day player.) If the A's get that extra bat, then that's your four outfielders, with Michael Taylor and Collin Cowgill SOL in Sacramento, waiting for a shot. With the apparent unlikelihood that this veteran fourth outfielder will be a center-fielder, I guess that means Josh Reddick is the backup at that spot when Coco Crisp has an owie that keeps him out of the lineup for a day or two but not on the Disabled List.
This is actually rather clean. Taylor has only hit at AAA at a rate that would be adequate in the majors, while Cowgill tore up Reno, which is the kind of place where Andy Tracy and Cody Ransom put up 1.000 OPS. Neither has forced their way into the picture, and it seems unlikely that either will benefit from sitting on the bench as a fourth outfielder. (On the other hand, if the A's fail to acquire another grassman, Cowgill's upside isn't so sparkling that it'd be a travesty to see him in the majors in a reserve role.)
I think what's becoming increasingly clear is that the A's don't take the idea of Brandon Allen patrolling left field seriously at all. I have no idea who has edges over whom, but I think it's fair to see an Allen-Barton-Carter battle for 1B/DH at-bats, and even a strong possibility of all three making the roster, with the full situation playing out over the course of the season. I don't really have any suggestions for the team beyond that, but I do hope we don't see Carter shoved back to another year of AAA-bashing in favor of keeping two spare outfielders, especially since Allen, whatever I said about his actual ability to play left on a regular basis, presumably can strap on a glove and his track shoes in a pinch.