Transactions: Thompson, Miller, Parker, De Los Santos
By Jason Wojciechowski on April 25, 2012 at 10:15 AM
(Someday, I'll write about a game again. But as long as the A's keep making daily roster moves like it's a Yahoo fantasy team and as long as I remain a week behind in game-watching (I just saw the A's finish off their series against the Angels last night), these kinds of posts will be the main substance of the site.)
The A's made two pairs of moves today, involving four players, essentially three of which were elective. The mandatory move, in a sense, was calling up Jarrod Parker to start tonight's rubber match against the White Sox. Oakland optioned out Graham Godfrey a few days ago and announced not long after that Parker would be coming up to make his American League debut. Even if Billy Beane and company had changed their minds, they'd still need a starter, and thus they'd still need to make a 25-man roster move. I'd predicted that the 25-man move would be sending Pedro Figueroa back from whence he came, but Oakland instead optioned Fautino De Los Santos1, presumably to work on not burying the ball in the dirt and way outside to right-handers: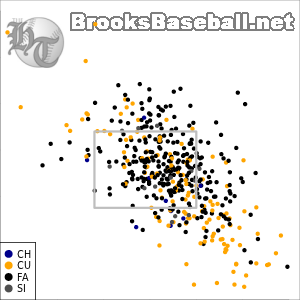 Courtesy of Brooks Baseball.
It's just twenty batters faced, but it's only been eight for Figueroa, too, so it's not like we can honestly choose between them on major-league performance. The A's either want their major-league staff to have a look at Figueroa, or they want De Los Santos to work on things in the low-pressure Sacramento environment, or they want Scott Emerson (AAA pitching coach) to work with him, or who even knows.
What's interesting is that this is essentially De Los Santos's second demotion of the year, the first being Bob Melvin preferring Ryan Cook to De Los Santos for more setup-man-type duties (seventh and eighth innings of save situations). De Los Santos has pitched in the following game situations:
| Inning | Score Differential |
| --- | --- |
| 9 | -4 |
| 7 | -4 |
| 9 | +6 |
| 6 | +2 |
| 8 | -1 |
| 9 | -2 |
Now, those last two are higher-leverage spots than the other four on the list, but it's a quirk of modern bullpen management that managers use their setup types with 1-3-run leads and their others with 1-3-run deficits. (To be fair, with the A's, this might be the right call -- their offense might be less likely to come back from a two-run deficit than many, such that you'd view a standard win-expectancy table as being not quite representative of the actual situation Oakland faces.) It's also worth noting that De Los Santos did not record an out over those last three appearances, and threw just fourteen strikes in 32 pitches, so perhaps Melvin was consciously attempting to put De Los Santos is more important situations, only to see him fail pretty miserably.
If you want to get excited about Jarrod Parker, by the way, try 21 strikeouts to six walks in 20 2/3 innings over four starts in Sacramento. That innings count may look a little low, which raises pitch-efficiency questions, but do note that his last start was cut well short so that he could come up and pitch today, having thrown what amounts to a game-action bullpen session rather than a full start a few days earlier.
Now! Jim Miller and Rich Thompson. The A's just claimed Thompson from the Angels, and here's what they got from him: one game, 2/3 of an inning. It seems weird to just dump him now, especially since they could have just used the open roster spot on the now-40-man'd Jim Miller in the first place. In the end, it probably doesn't really matter, especially if Thompson happens to clear waivers this time around and the A's can keep him in AAA. (I'm not sure if he's outright-able. I get waivers and options, but I can never keep track of the point at which a player gains the ability to refuse assignments and become a free agent instead.)
Let me just say this: if I had the kind of all-access pass that Michael Lewis had when he was researching Moneyball, I'd end up writing a book about the tiny little moves like this, the discussions that happened around them, and so forth. You'd never hear about the Pickin' Machine and full-season stud Chad Bradford because I'd be too busy learning about guys like Thompson (who seems pretty funny on Twitter, which makes me sad to see him go) and the whys and wherefores of the moves around such players.
Anyway, here's Nathaniel Stoltz on Miller:
@jlwoj Generic fastball/slider guy. Low-90's heat.

— Nathaniel Stoltz (@stoltz_baseball) April 25, 2012
I'm intrigued to watch him pitch because, as I say in response to that tweet, Miller's performed rather well at AAA for ages now: 9.1 K/9 to 3.0 BB/9 (though with perhaps an elevated homer rate, not helped by fly-ball tendencies) in 298 innings at the level. He's always been a bit old for the level (he was 25 when he first landed in AAA, though he had a bad walk rate that year -- he started pitching well in AAA at 26), but you'd think he'd have received some shot in the majors for that kind of pitching, right? And instead what you see is 7 2/3 innings in 2008 and another seven last year. For what it's worth, he allowed seven unintentional walks plus one hit batter in those 14 2/3 innings, so he didn't do as much as he could have to impress.
One more thing worth nothing: it's possible that Miller has some weird combination of strikeout ability and gets-hit-real-hard ability. I don't know what kinds of defenses he's been playing in front of, but here are his AAA BABIPs since 2008:
| Year | Team | BABIP | TBF | Team BABIP |
| --- | --- | --- | --- | --- |
| 2008 | Norfolk | .323 | 271 | .315 |
| 2009 | Norfolk | .321 | 272 | .307 |
| 2010 | Norfolk | .313 | 243 | ???2 |
| 2011 | Colorado Springs | .393 | 325 | .377 |
Yow, Colorado Springs.
Anyway, I'm not doing any math or anything here, but Miller's allowed an above-average BABIP for at least three of the last four years in AAA, which makes me suspicious that his strikeout rate undersells his overall pitching ability. No firm conclusions, but it's something to keep an eye on as he pitches to major-leaguers.
---
This thus appears to be De Los Santos's final option year. SBN has has contract being purchased in the offseason before 2010. He was optioned to Midland during spring training that year, spent time with both the big-league squad and Sacramento in 2011, and has now been optioned to the minors for the third year. If he can't pull himself together in terms of throwing strikes, he could find himself having fallen from possible starter to closer-in-waiting to bounce-around guy in the space of just a few years. Tommy John, sigh. Have you looked at his pre-surgery A-ball stats as a starter? Double sigh. ↩

The "???" is because my data source (Baseball Prospectus) lists BABIPs of .400+ for all the teams in the International League for 2010, which is very probably not right. ↩