Roster Review: Nate Freiman
By Jason Wojciechowski on February 18, 2014 at 9:21 PM
The neat thing about Nate Freiman is that he is what he is: a real big tall guy who's limited to first base and who played last year as a Rule 5 pick despite being 26, someone who didn't hit righties for anything in 2013 (.167/.239/.167 in 46 PA) and, while he hit them fine in the minors, still had a big split (.279/.342/.460 vs. .349/.435/.625 in 2011-12), someone whose value is leeched away by defense and baserunning and the aforementioned struggles against righties and yet remains someone who could add value for the A's in 2014 if he's protected even more from his weaknesses.
The problem is that those weaknesses probably aren't going anywhere. At 6'8", if Freiman were a great athlete in the classic sense of running and jumping, he'd probably be a power forward. Instead, he's a baseball player, and because he's not a great athlete he's not even a corner outfielder, much less capable of playing an up-the-middle position. Baseball is a low-to-the-ground game. There are ground balls to reach down and get, throws across the infield err on the side of bouncing rather than flying high, and a pitch at the knees is a strike. If Freiman from a normal position in the batter's box extends his arms, he's barreling up a ball that would crack a lefty batter in the ribs, so he's either perpetually short-armed or else he's setting up like Harold Baines. (Why he doesn't set up like Harold Baines is beyond me. Maybe coaches just never got him comfortable with it.) That he hits anybody at all is a miracle, but it might help explain why he's a specialist against lefties -- pitchers like to work arm-side and they like to work the outside part of the plate. Lefties working the outside to Freiman are, at least in theory, working into his strength, physically.
The problem with my theory is that it doesn't pass the test of data: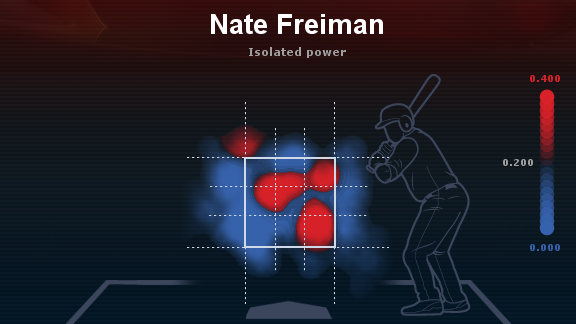 That's Nate Freiman's isolated power against left-handed pitchers and hey look at that low and inside hot zone. I won't show all the pictures, but his batting average and contact rate show similarly better work on the inner half (and off the plate inside) than the outer. All of which is to say that I don't know what I'm talking about.
What I do know is that Freiman now has options left, so there's no guarantee that just because he was on the roster in 2013 he'll be there again in 2014. In particular, note that Michael Taylor, who's at least as theoretically capable of playing backup first base as any reasonably athletic person, is a right-handed batter who is out of options and who doesn't really have a way to make the team unless Freiman isn't around. On the other hand, Taylor has actually exhibited a weird reverse split from 2011-13 in the minors:
| vs. L | PA v. L | vs. R | PA v. R |
| --- | --- | --- | --- |
| .229/.331/.375 | 350 | .298/.392/.483 | 1074 |
I don't know what to do with that. I guess the same thing I do with Daric Barton, which is wave it away as the oddness of small samples. But hey speaking of Daric Barton:
| vs. L | PA v. L | vs. R | PA v. R |
| --- | --- | --- | --- |
| .252/.377/.366 | 248 | .279/.424/.426 | 651 |
Where was I? Nate Freiman, right, Nate Freiman. I don't know. Here:
I guess in short1 I'd say that even at the cost of losing Michael Taylor and Daric Barton to a waiver claim, I'd rather have Freiman. Give him 180 PA against lefties and watch him go, wheeeeeee.