A's Pitching Injuries and other news
By Jason Wojciechowski on March 16, 2014 at 4:03 PM
Jarrod Parker and A.J. Griffin are hurt. The sky, she done fell. It was already a long way from Parker to Tom Milone. Add to that long way the long way from Griffin to Jesse Chavez and you've got ...
math math numbers math algebra math

wow such bad.
"There's always Josh Lindblom!" you say, and "Drew Pomeranz is neat!" and "Bob Melvin likes what he sees out of Arnold Leon!" and I despair, I despair, I despair, because if the A's are going to rest 40 percent of their rotation on Jesse Chavez (visualization exercises or not) and Tom Milone and Drew Pomeranz and Josh Lindblom and Arnold Leon, well, look, I don't think the Angels are all that good and the Rangers have some very interesting variance possibilities in the downward direction and Seattle is probably not ready to leap and the Astros are the Astros and yet I despair.
The thing that keeps me from fully despairing (which would be "I despair" four times rather than just three) is the idea that Griffin (and Parker?) will miss a few weeks each and maybe have some PRP therapy, pushing back their timetables in terms of season readiness but basically missing a handful of starts each and then throwing the rest of the season with no problems beginning in, say, May. The problem is that you can't say that will happen because we've seen how this goes. It's like Marlo said:
Is it? It was for that security guard. And the A's are probably more security guard than Marlo Stanfield in the scheme of Major League Baseball.
---
Don't forget that Ryan Cook won't be ready on Opening Day either, in case you needed reminding. I sure did [not]!
And double don't forget that Craig Gentry, for whom the A's traded a top-100 prospect, corner outfielder Michael Choice, also looks less and less likely to be ready at the start of the year. I would feel pretty okay if Michael Taylor made the team as the fourth starter in Gentry's absence. Worst comes to it, he scuffles again and the A's designate him for assignment around mid-May rather than early April. They're taking their chances one way or the other.
---
At least Milone throws a sinker now?
---
And in case you needed a reminder of this also, Scott Kazmir is one of the rotation locks for the A's. "Locks," I said. Yeah.
---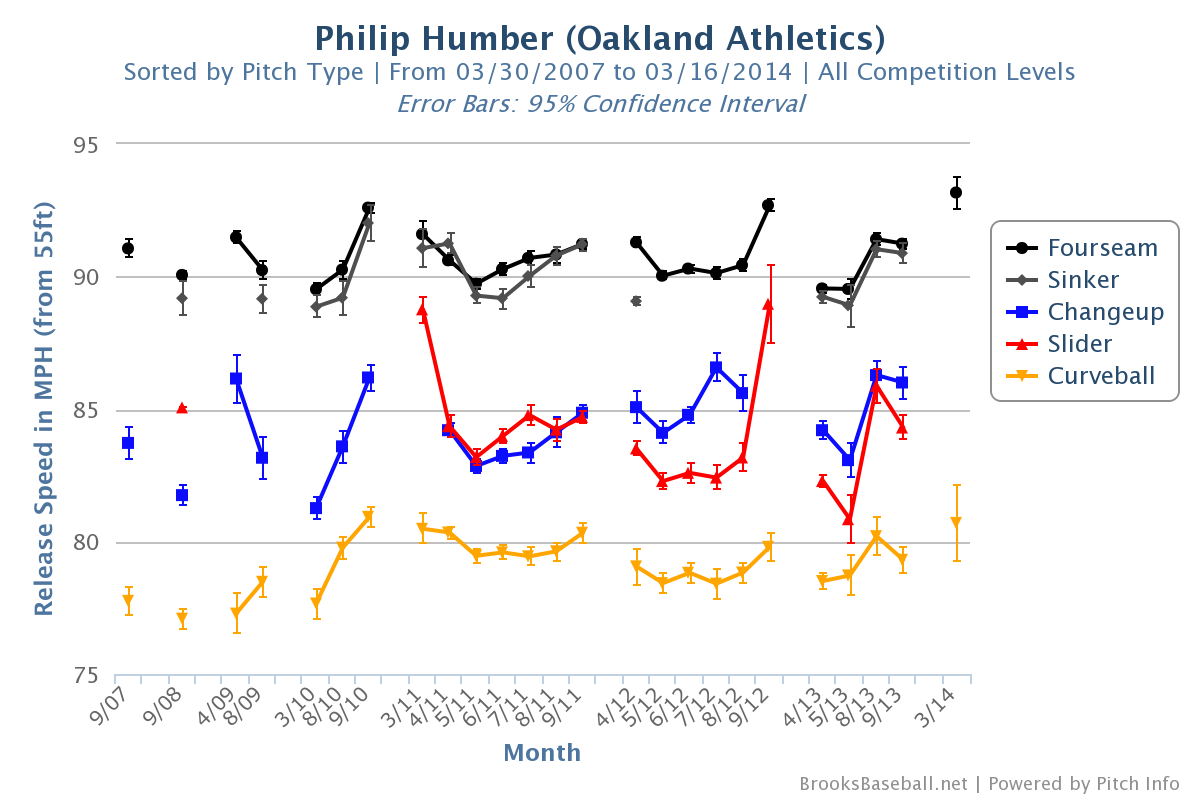 I'm not seeing it.
---
Here's an Athletics Nation Front Page Audition. In case you're curious.
---
Eric Sogard is happy with his platoon role, but does he even have that? WHO THE HELL KNOWS ANYMORE.
---
Ann Killion gets a terrifically frank quote about Hideki Okajima here from Sacramento manager Steve Scarsone. Although for what it's worth and notwithstanding his ERA, Okajima probably was too good for the minors.
---
Here's a weird quote in a Susan Slusser story about Billy Burns, from Burns' former minor-league hitting coach:
He's an 80 runner on a scale of one to 80.
One to 80? That's not a scale. Nobody uses that scale. That's a weird scale.
---
Bob Melvin does not have an iPad, apparently.
---
Here are some good words about Daniel Robertson, A's prospect and for-now-shortstop. Robertson put up a solid .277/.353/.401 line with Beloit last year as a 19-year-old and was a supplemental pick in the 2012 draft. Baseball Prospectus ranked him fourth in the A's system prior to the Michael Choice trade, noting that he's more about polish and baseball skills than tools but also saying that he's likely a future major leaguer. On the A's, that's not going to come at shortstop with Addison Russell around, and money willing, that won't come at third base with Josh Donaldson around. If he can make the switch to second, though, there's nobody in the system standing in his way, so he could run out a few decent cheap years as a starter there if things go well.